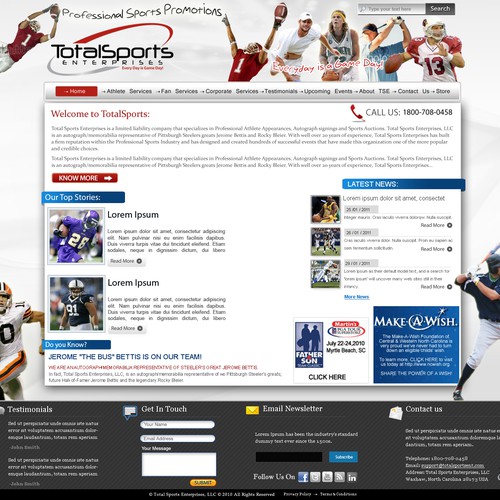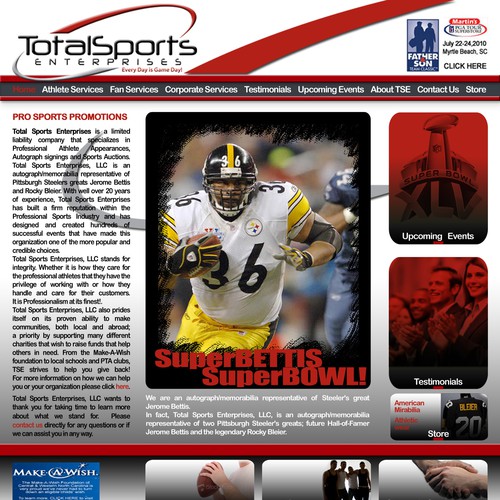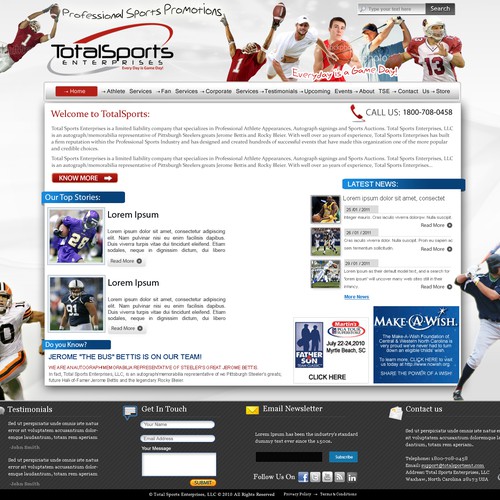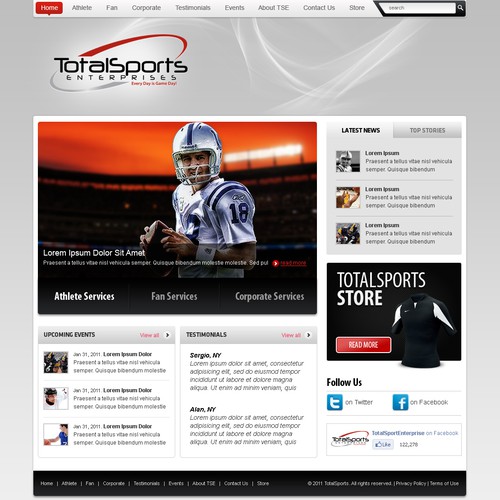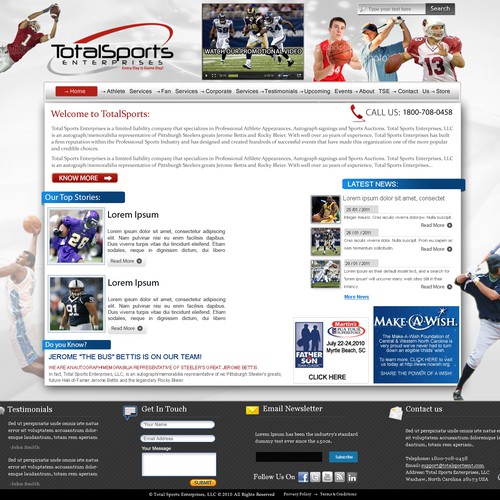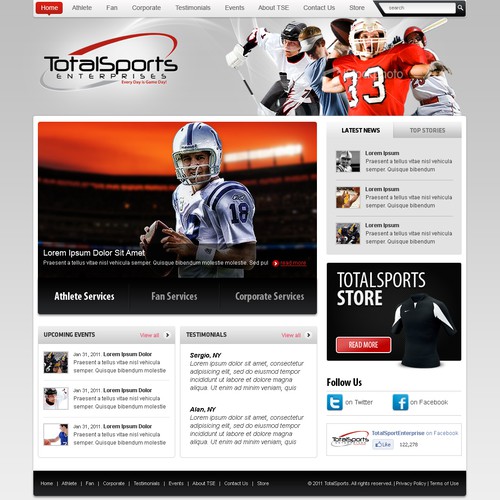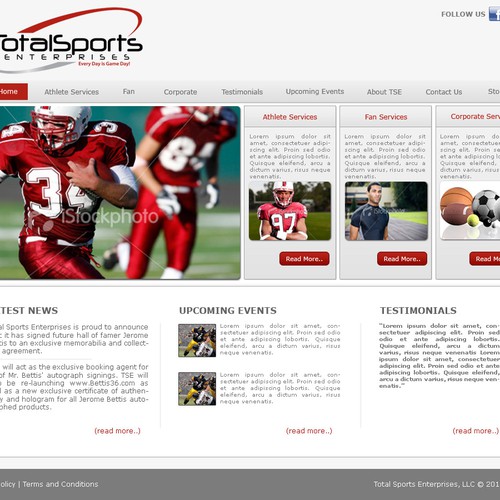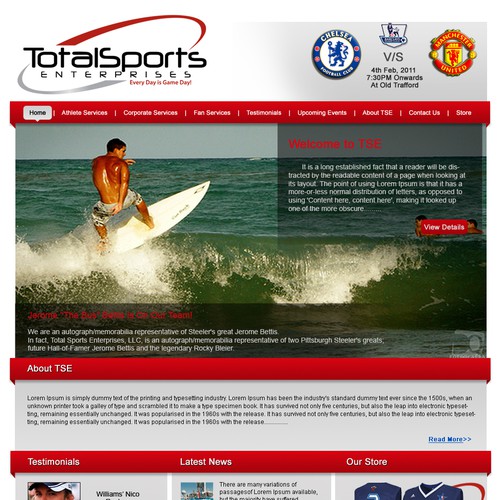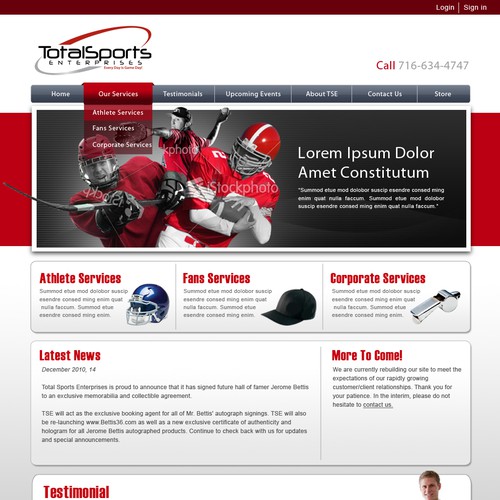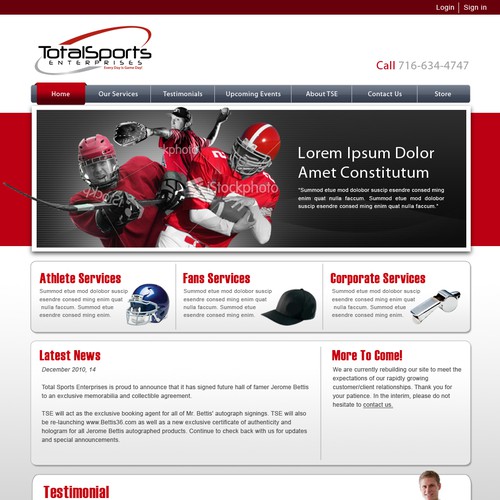 How Mike_Shea started their web page design journey
Overview
We are a dynamic, innovative company that has more than 20 years experience in professional athlete marketing and branding services, including:
• Personal appearances/Speaking engagements
• Autograph/Memorabilia signings
• Sports auctions
• Charity events
• Developing and maintaining online presence and social media strategies
• Developing and maintaining endorsements/sponsorships and advertising strategies
• Developing sales strategies that deliver maximum profit
We have established a firm reputation within the professional sports industry of providing excellent service, having planned and managed hundreds of successful events. The hallmark of that reputation is the quality of care and trust that we provide both to the athletes, agents and attorneys as well as to their Fans, Clients and customers. Though our focus in the past has been primarily NFL athletes, we wish to expand our own brand to include other professional sports athletes, including MLB, NBA, NHL, PGA, WTA, MLS, NASCAR, etc. Therefore we'd like our website to have a clean and professional look that explains our services and, as our name implies, offers them to any professional athlete, their agents or their attorneys.
Tell us a bit about who you are and the people you reach
We target all professional athletes and their agents/attorneys. Secondarily we target major corporations (motivational speaking, endorsements, advertising, recognition and incentive packages), and athlete's fans/customers.
Requirements
Develop a clean, professional website home page with navigation to other site pages that will have the same look. Our preference is a mostly white background with a gray or dark silver color fade around the borders of the site/dialogue boxes etc., with a color scheme that matches our logo (see attached). The main navigation should include:
• Home
• Athlete Services
• Fan Services
• Corporate Services
• Testimonials
• Upcoming Events
• About TSE
• Contact Us
• Store
There should be a page footer that includes "Total Sports Enterprises, LLC © 2010" and a text link to our "Privacy Policy" page.
Page descriptions
See the "Requirements" section of the project description for the minimum requirements for the web site home page to be designed. Other than that we are looking to you to add graphics or other page elements that convey our image as described above in a professional manner, albeit with a professional-sports bent. Be creative!
Existing website
http://www.totalsportsent.com - our current site was slapped together from a TemplateMonster template just to give us a quick web presence, but it does not at all convey the image we seek. You may draw some insight from the limited content on the site regarding some of our past activities, but nothing should be inferred from the design (or lack of it!).
Example websites
None - we prefer that designers come up with fresh designs that are not modeled after another site.
Free features
Blind contest

Fast-tracked
We've found some similar contests you might like