Sergey Gudz completely mesmerized the 99designs community with his brilliantly detailed illustration for a video game backdrop. While specific to the brief, the image is one that feels very familiar to designers everywhere: an ordinary home work station to one side, and a fantastical counterpart on the other.
Sergey captures the nexus where the world of the everyday and the realm of imagination meet, and perfectly achieves the associated ambience that many of us intimately know.
We had the chance to chat with Sergey about his process for creating this image, his general path to developing his skills as an illustrator, his strategies for using 99designs and his big plans for the future. Read on for the interview.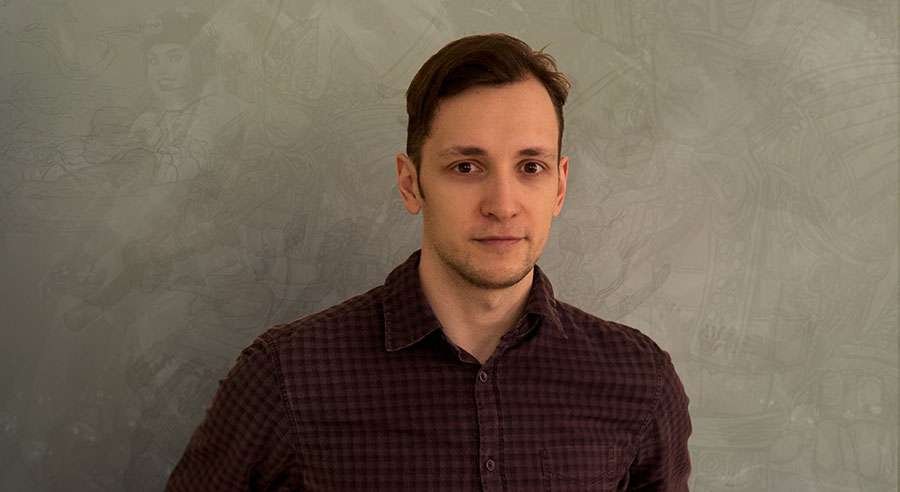 Name: Sergey
99designs handle: Sergey Gudz
Location: Kiev, Ukraine
Specialty: Illustration
Your design that won our Ultimate Top 9 contest is really amazing. While the general concept came from the client, you really made a statement of your own. Can you tell us about your creative process here? 
Thank you for kind words. The goal was to illustrate the metaphor of a dive from the real world into the world of the client's computer game, creating an image to be used for the background of the game's countdown page.
Initially it was going to be two images—a line art version without color that would smoothly transition into a different one using animation. But during the contest the the task changed a few times, and ultimately we decided to take the approach of a single, colored image depicting a "double room," with one side representing the everyday world and the other side representing the world of the game.
I wanted to create a homey atmosphere–the time when you can relax after work—and I took many of the objects from my own experience and my own room. Fisheye perspective played an important role in the composition of the picture. I like how it adds depth and a sense of altered reality. Another important concern was to not make it too serious, but not to make it cartoonish either. My approach to sketching lines and creating light effects helped with that.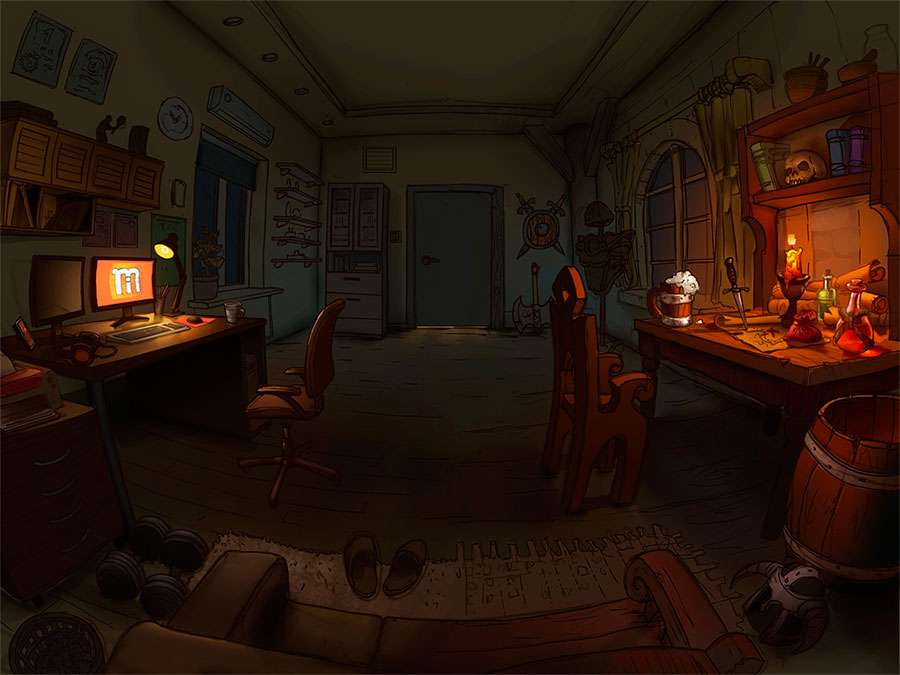 Yes, the light is very important. On a technical level, how do you achieve these highly naturalistic lighting effects?
There is no big secret, really. We have a two sources of light, each with a small power radius. The rest of the light is scattered by the room. In such conditions, the main contrast is in a bright area, with a halftone and the darkest tone very close to each other.
I separated the room's objects into groups and added flat color, then worked with the smooth brush and radial gradient tool inside each object. Afterwards, I worked on top of all the layers with the same tools.
Then I used the "overlay" layers mode to make the surface pop out and the "color dodge" effect in places where the light appears through the object, as well as mixing the colors in the border area of the light spot.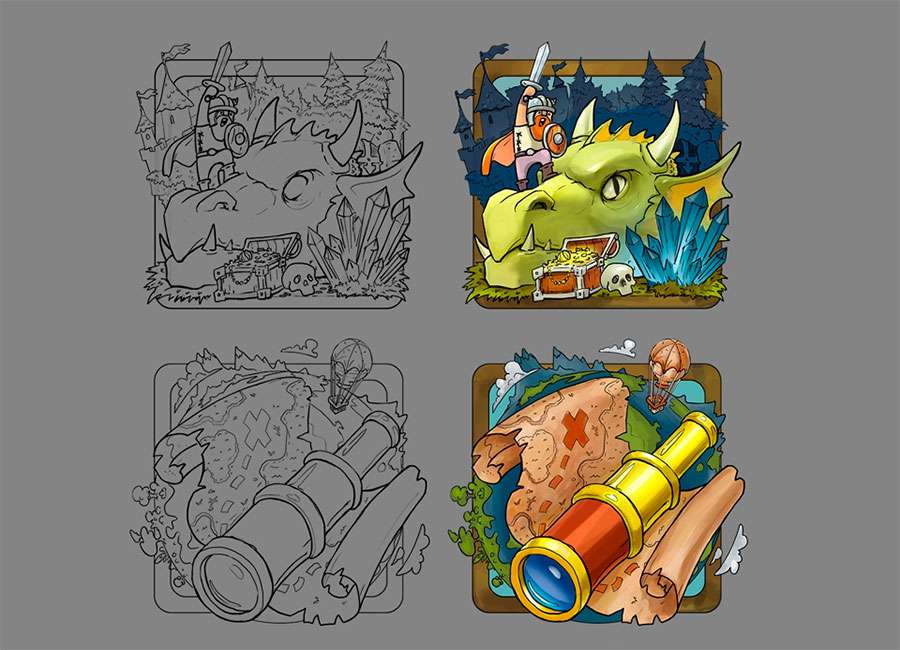 Clearly your illustration skills are really sharp. How did you get them to the level they are at today?
Before getting into drawing, I worked for one year in printing and for about the same amount of time as a web designer. I got my basic knowledge from courses, online tutorials and these two jobs. But the most important things were self-study and what I found on the Internet.
Communicating with the other guys on forums was very helpful, as was participating in common challenges and contests. Then, for about two years I illustrated for Flash and mobile games, and another year I spent on a friend's browser strategy project.
In the last year of freelancing, I've gotten a lot of experience in book covers and illustrations.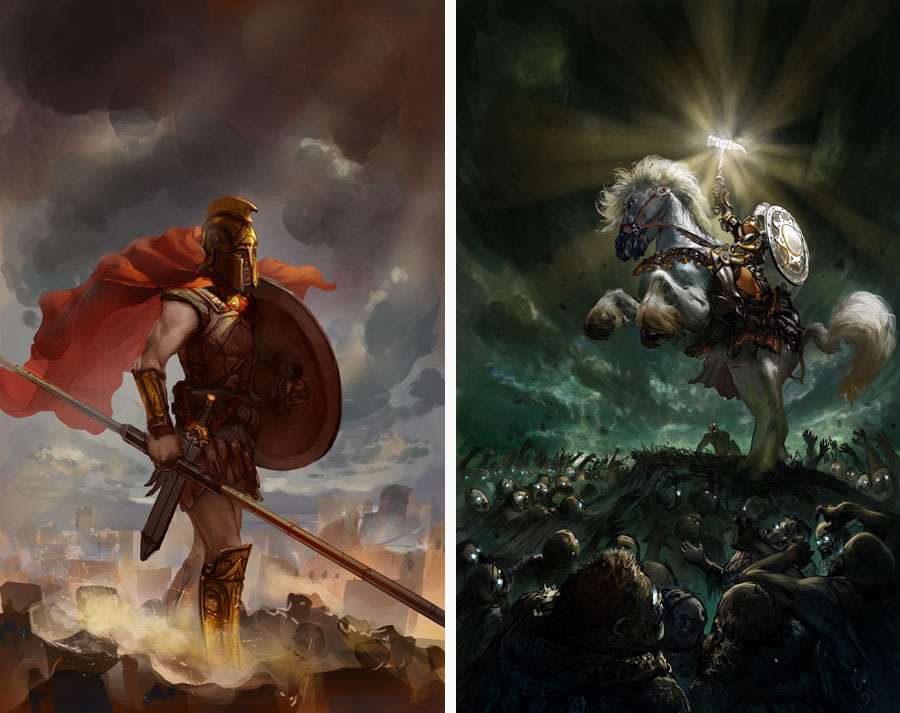 What sort of media do you use for your illustrations?
All my works are made on a graphic tablet, the Wacom Intuos L. Mostly I use Photoshop – sometimes 3D Max and Zbrush – to find character poses, composition and other reference.
How do you stay sharp, now that you are at such an advanced level?
I think inspiration can be found in all that surrounds you—things with which you interact, in which you can find harmony. I like to make quick sketches, from 30 minutes to two hours, of things that can be found nearby in the room.
I do at least one still life per day, like the ones below. I have also been studying classical painting and trying to use traditional drawing as well, making sketches of people on the street and underground.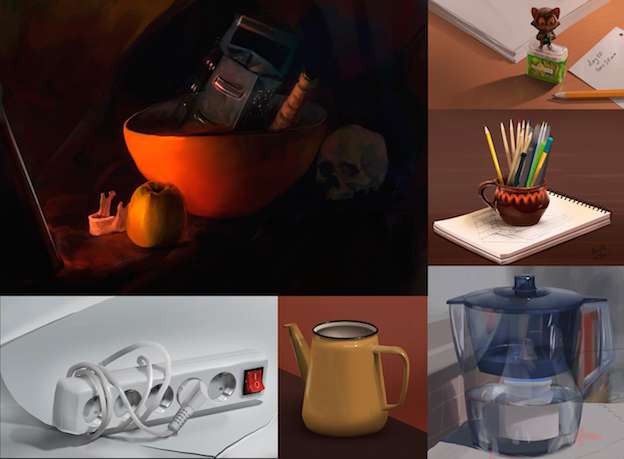 As an illustrator, what is your strategy for choosing contests and finding clients on 99designs? Do you think this is different from designers who focus more on other types of designs, like logos or web sites?
Mainly I look at the requested style and the challenges that an illustration project presents. Then I carefully read the brief, trying to figure out whether the task is formulated correctly.
It often happens that the customer doesn't quite understand what reference points should be given for the designers to get started with.  In this case I only ask what I need to know, but do not start on the work right away because there is a chance that it will be done in vain.
Always try to respond to the contest in the first or second launch day, though, because it is very important to quickly make contact with the client. Then you will better understand what the customer wants and you will have time to correct any mistakes, should they arise.
It's difficult to say how this differs for designers in other topics, but probably it depends on the same things—project goals, your experience, the number of participants, making contact with the client and the remaining time. I think the main difference is probably the speed of work at different stages.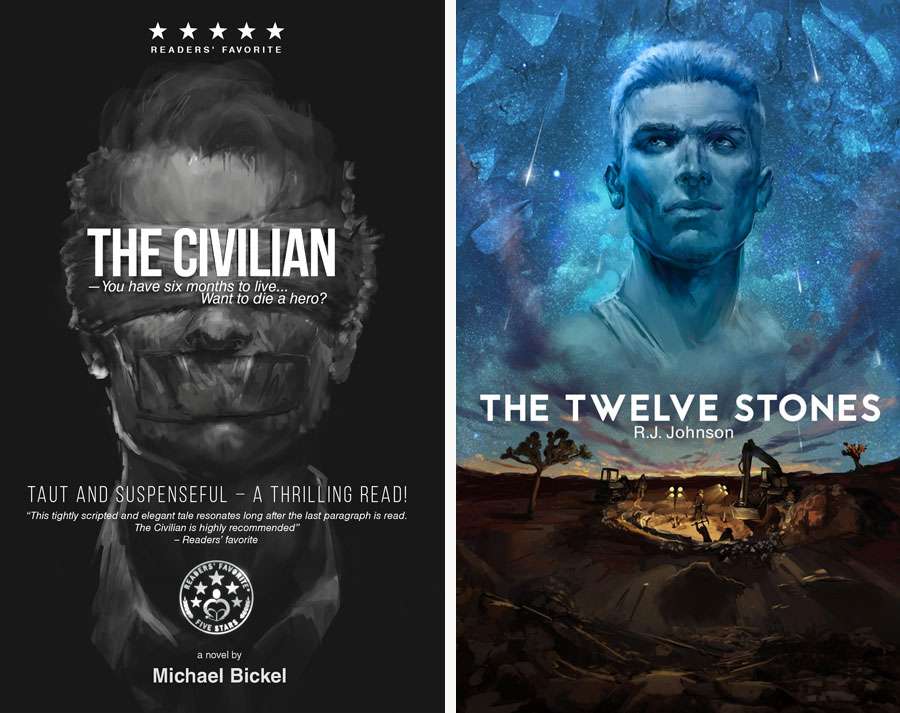 What are your goals and aspirations for the coming years?
In terms of study, I really like the portrait and landscape, so these are things that I will pay close attention to the next six months or year. Also, I really like game development.
In the next two years, I want to find a team that can take on its own projects. At the moment, I have started the initial process of developing one with one of my friends, but due to the shortage of time, it's more learning and research at this point.
Other than that, I used to swing dance a lot and may go back to it this year. This summer I want to learn canoeing and in general find more time for travel, friends and new things.
See more of Sergey Gudz's work here.